The opening of Mr Souvlaki in Oxfordshire is the realisation of a dream for Ilias Alexeas who is following in his grandfather's footsteps by opening his first Greek street food shop.
Ever since moving to the UK a decade ago, Ilias has felt homesick for greek food
"Opening Mr Souvlaki is all about making a dream come true," Ilias says. "We just want to spread some Greek tastes, tradition and warm hospitality to each and every customer of ours by offering a truly authentic eating experience."
His grandfather Andreas did something very similar on emigrating to America in the 20th century, which is why the Mr Souvlaki logo features Andrea himself.
So why has Ilias given up a successful career in motorsports to follow in the family tradition? "Ever since the UK became my new home, I have thought about bringing something from Greece here, because the tastes of Greece are part of its culture," he explains.
Besides, since relocating to the UK a decade ago Ilias has felt homesick "a 'Nostos' as we say in my mother tongue," he smiles, "especially for the food".
"My grandfather went to america as an immigrant and started by opening a greek food stall. At his peak he had 20 restaurants and he is my inspiration."
Having looked for the right premises for years, Ilias then chanced upon the Lock29 complex attached to new food concept store Happerley, and knew he'd found his first destination.
"I fell in love with Lock29. It is so contemporary and reminds me of London's food markets. Plus it's right in the heart of Banbury," he adds.
READ ABOUT HAPPERLEY HERE: https://www.oxinabox.co.uk/englands-first-state-of-the-art-national-centre-of-food-and-drink-provenance-happerley-opens-in-banbury/
His Greek style street food venture is already a raging success, and currently open for takeaway, and with plans to roll out the Mr Souvlaki concept across the UK, Ilias can't wait for us all to try his authentic Mediterranean fast food with a twist.
Which is ironic, because that's exactly what his grandfather did when he emigrated to America, hence the Mr Souvlaki logo featuring Andreas himself.
"My grandfather Andreas is the inspiration for the logo. He went to the United States as an immigrant and started from a food stall as he didn't have a lot of money," Ilias says.
"He slowly expanded, and then began opening restaurants. At his peak he had 20 restaurants and then retired home to Greece. As a kid I listened to his stories and his advice and was inspired to follow in his footsteps.
"So to honour him I made a logo of him to have his blessing and hope to follow his path…"
It's an inspiring story, especially as Ilias runs Mr Souvlaki with his father. "My dad Ioannis is the main chef and I deal with the customers. My dad is from Kalamata , my mom is from Sparta, and our goal is to expand until my son can carry on. His name is Ioannis as well."
So how does he feel opening in the middle of a pandemic? "I am very happy actually that I opened my shop now because I have created the business, food and menu that I want, and I love dealing with the customers, plus I get to eat souvlaki all the time….." he laughs.
Yes souvlaki is something of an obsession for Ilias: "Whenever I stepped back onto Greek soil it was a ritual for me to order two pitas; one pork, one chicken. But now I don't need to and the citizens of Banbury can experience it here."
As for the future, Ilias just wants to introduce us all to his Greek street food, Mr Souvlaki style. "It's super authentic, as if you were in Greece, with an artisan twist.
"My grandfather underwent the same emotional journey in the States many decades ago, and despite his empty pockets, his big dream was always to spread the Greek tastes, traditions and warm hospitality to the States. Mine is the same but here in Oxfordshire.
"His stories, and the same big dream and unending love for Greece's oldest, original "street food" inspired us to take our own little steps, towards making souvlaki well known in Banbury."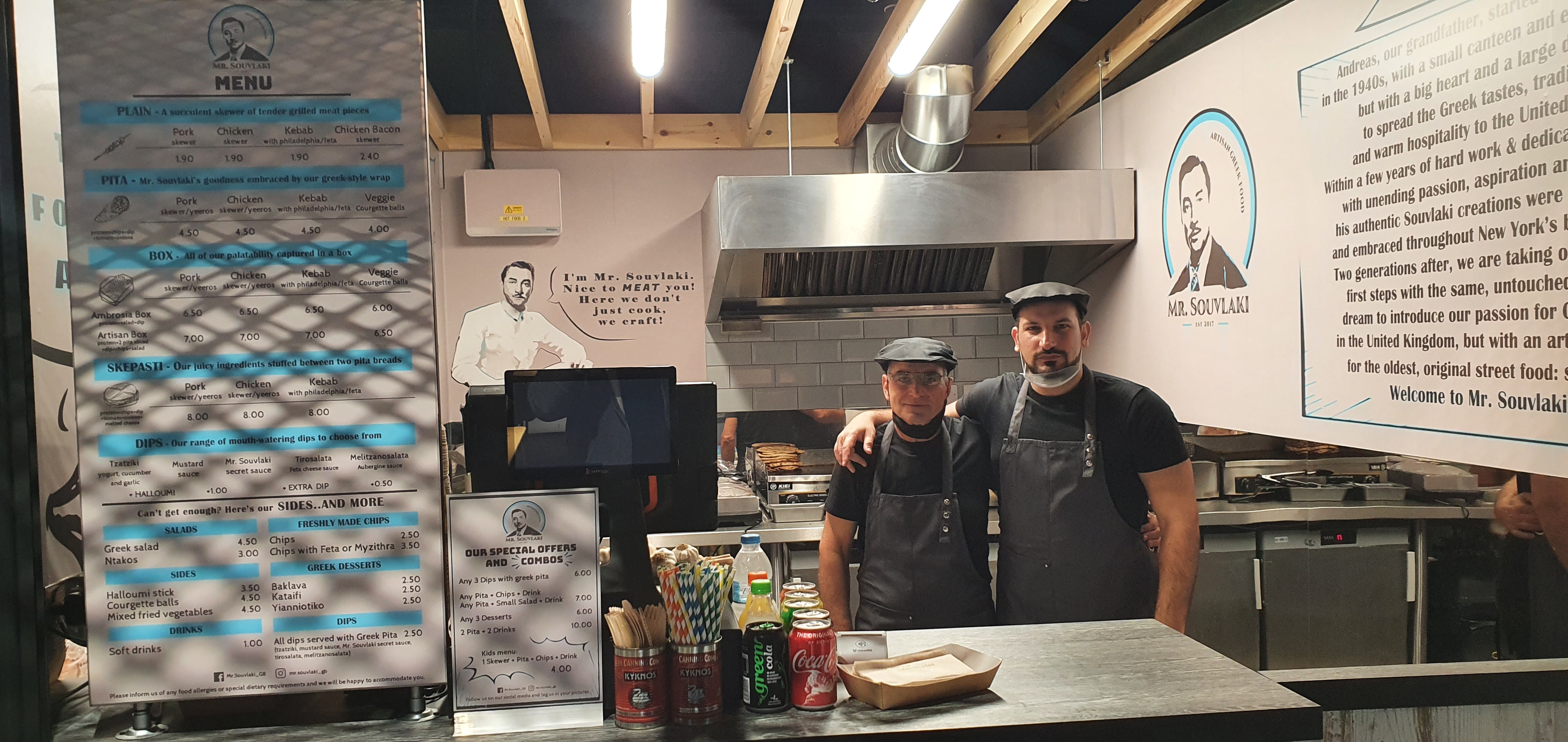 To get your order for Mr Souvlaki in go to https://www.lock29streetfood.co.uk